Workshops
A series of workshops given by some of the artists participating in Videoarde were held in Argentina in coincidence with the exhibition. They were directed to any person interested in participating in a democratic experience of collective construction (performers, video artists, visual artists, documentary makers, people connected to theater, urban planners, architects, sociologists, psychologists, students of related areas, etc.
The workshop given by the Chilean artist Edgar Endress, entitled Creative Strategies for Actions and Performances, was held at Centro Cultural de España in Montevideo on 9-10 March 2009. The artist approached the task from the point of view of relational aesthetics mixed with video. Some examples were analyzed, taking his own works as a starting point (and as a member of a collective) in the fields of action and performance, within the framework of contemporary art.
The workshop Buenos Aires Clip took place at Centro Cultural de España in Buenos Aires between the 3-5 August, given by the Venezuelan artist Alexander Apóstol. Its main aim was to analyze, through some of the works by Apóstol, the possibilities between art, photography and video within the urban environment of the city. The main idea was to approach the city, from its official look to the opposite look, consolidating and searching for a personal view through the work of each participant.
From 18 to 22 August 2009, the workshop ¡A la calle! was held at Centro Cultural de España in Córdoba. The workshop consisted of an action in the public space and its video recording. It was given by the Ecuadorian artists Valeria Andrade and Pedro Cagigal and it was presented as a space for the development of artistic projects linked to the body and its relationship with the contexts, as well as its translation to audiovisual language. Actions and/or urban interventions proposed were developed with instructions to consciously feel the physical and social context of the city of Córdoba, analyzing the interrelated different elements in order to outline their own urban landscape.
The workshop Only one shot: workshop of uncut video-experiments, by Jonathan Harker took place on 20-23 July 2010, at the computing lab of the UAM (Universidad Americana) of Managua. Besides, a discussion entitled Dialogues-Videoarde, with Jonathan Harker (Ecuador/Panama) and the curator Emiliano Valdés (Guatemala) was held at the main auditorium of the UAM on 22 July.
---

---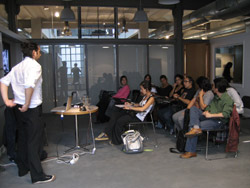 Edgar Endress en el CEE de Montevideo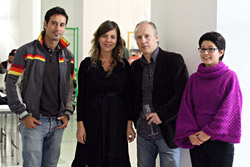 Alexander Apóstol, Inés Huergo, Ricardo Ramón y Mercedes Urquiza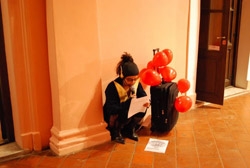 Valeria Andrade en el CC España-Córdoba